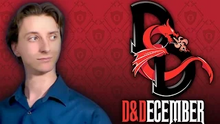 D&December is a event that happens each December. In D&December, Jared devotes the entire month to Dungeons & Dragons videos. D&D is one of Jared's biggest passions and always wanted to do it. This series will include regular ProReviews, some gameplay videos, and tales from Jared's experiences.
2015 episodes
Edit
2016 episodes
Edit
ProJared Plays
Edit
Ad blocker interference detected!
Wikia is a free-to-use site that makes money from advertising. We have a modified experience for viewers using ad blockers

Wikia is not accessible if you've made further modifications. Remove the custom ad blocker rule(s) and the page will load as expected.