Jared celebrates PBG's Zelda Month by playing The Legend of Zelda randomized, as a follow up to his Link to the Past series! Jared spends the series desperately burning down trees, blowing up walls and going insane to try to find the dungeons to find giant doritos.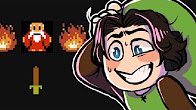 In this version of the game, the dungeons are scattered randomly across the map, as well as all the rooms in the dungeon are randomized as well.
List of Episodes
Edit
Ad blocker interference detected!
Wikia is a free-to-use site that makes money from advertising. We have a modified experience for viewers using ad blockers

Wikia is not accessible if you've made further modifications. Remove the custom ad blocker rule(s) and the page will load as expected.