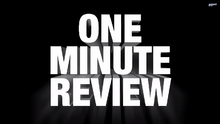 One Minute Review is a show on Jared's dmjared YouTube channel. On this show, Jared does a review in one minute and gives a score at the end. On occasion, he will also do a full review as well as a One Minute Review if he doesn't have enough time.
Jared eventually stopped doing One Minute Reviews. The last episode, 'One Minute Review -The Legend of Korra', was uploaded on December 9, 2014. Jared, on May 17, 2016, admitted on Twitter that: "I'll never do one minute reviews again. The YouTube algorithm makes them a TERRIBLE idea now. It'd honestly destroy my channel."
List of Episodes
Edit
Monster Hunter received a 12 out of 10 in the One Minute Review, but in the full review it only received a 8.
Jared couldn't get Sim City to work, so he didn't give it a score. In the full review, it got a 3, but revised to a 6 once the servers were fixed.
Ad blocker interference detected!
Wikia is a free-to-use site that makes money from advertising. We have a modified experience for viewers using ad blockers

Wikia is not accessible if you've made further modifications. Remove the custom ad blocker rule(s) and the page will load as expected.