ProReview is Jared's main show on his channel. On this show, Jared gives a review about (usually) an NES or SNES game. After his review, he gives a "score" out of ten, but the score isn't a number, rather an object or analogy related to the game. When Jared joined Normal Boots, his ProJared reviews were the only videos uploaded there.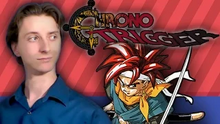 This show has become famous for Jared's hatred of the Hydlide series, as well as beginning several recurring jokes that have made their way into other videos, such as the "Beeeeeees" joke from the Hydlide videos.
List of episodes
Edit
External links
Edit
Ad blocker interference detected!
Wikia is a free-to-use site that makes money from advertising. We have a modified experience for viewers using ad blockers

Wikia is not accessible if you've made further modifications. Remove the custom ad blocker rule(s) and the page will load as expected.